10 Best Drums Under $700 !
So This Year You want to buy new drums but Have limited Money. Don't worry! This Blog is for you.
This Blog is only for Drums, hardware maybe included by company if included i will write down then.Cymbals not included. As you Know they alone cost at least $ 500 For descent one.
If you want to buy cymbals CLICK HERE.
Let's Start with our List.⇓ and remember these 10 drums are not ranked from 1 to 10 on basis of sound,quality these are top 10 drums under $700 you can buy whichever you like. 
1. Mapex Mars 5-Piece Rock Shell Pack Bonewood
PRICE : $ 599
The Mars Series Shell Pack offers 100% birch, 6-ply and 7.2mm shells with shallow depths complete with the SONIClear bearing edge, producing a fast and clear tone with a quick stick rebound. The SONIClear bearing edge allows for the direct transmission of sound, reduces unwanted frequencies and provides a strong fundamental pitch and an effortless tuning experience especially at lower tunings.
To Buy and Read More Click Here
2. Pearl Export EXL New Fusion 5-Piece Shell Pack
PRICE : $599
Some of the best-selling drums of all time, the Export Series by Pearl.
Export Series returns again – this time with a lacquer finish. Offering updated hardware features, SST shell construction and suspended mounts, these Export drums are better than you remember them. The 6-ply poplar and mahogany shells churn out balanced attack and full tone, while the high-end hardware will make your trip down memory lane a pleasant one.
To Buy and Read More Click Here
3. Yamaha Stage Custom Birch 5-Piece Shell Pack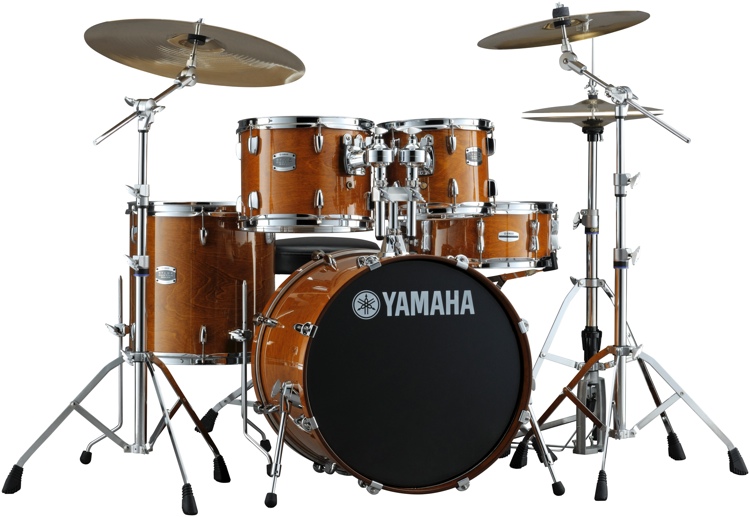 PRICE: $649
Among Yamaha's most affordable 100% birch drum shell packs.
This Yamaha Stage Custom birch drum shell pack is also great for the beginner or the working professional. The staggered diagonal seam allowed Yamaha to build a thin drum shell that will start round and stay round. The low-mass lugs lets the shell vibrate for superb tone and sustain. Yamaha's Air Seal System used for drum shell construction ensures each and every Yamaha drum shell is of uniform thickness and is perfectly round to achieve superior tone quality and durability.
Features a beautiful high-gloss lacquer finish. Hardware and cymbals sold separately.
To Buy and Read More Click Here
4. Pearl Decade Maple 5-Piece Shell Pack  White Satin Pearl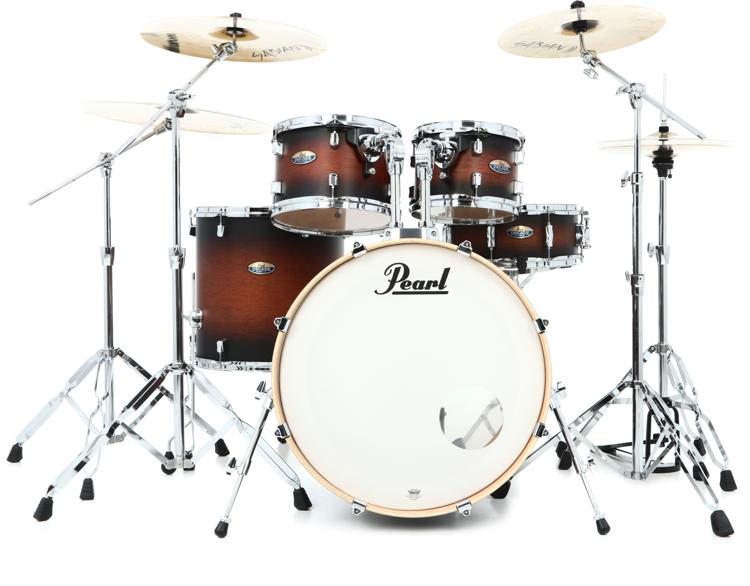 PRICE : $699
A drum series 10 years in the making.
Pearl's 70 years of drum craftsmanship culminate with the kit you're ready to step up to. With 5.4 mm maple shells, pro-level features, and gorgeous lacquer finishes, Decade elevates your performance at a price that was previously thought impossible.
To Buy and Read More Click Here
5. Gretsch Drums Catalina Club 4-Piece Shell Pack
PRICE : $ 699
A mahogany-shelled kit built for extreme mobility and classic performance.
The Gretsch Catalina Club Classic is a four-piece drum set for the active player who needs great tone from a portable kit that sets up and tears down quickly and easily. Featuring mahogany shells with 30-degree bearing edges and a natural interior, this set projects a warm, punchy, classic tone.
To Buy and Read More Click Here
6. PDP Concept Birch 5-Piece Shell Pack
PRICE : $679
A re-imagined line of PDP drums designed for all drummers.
The Concept Series by PDP has a fresh new look and a sound that already has drummers talking. The concept birch shells deliver classic punch, focus and attack and come in a myriad of today's most popular configurations. Then, add 7-ply toms or bass drums (and a 10-ply snare) to build custom-style kits to suit just about every musical style. Concept Birch drums are available in high-gloss finishes.
To Buy and Read More Click Here
7. Tama Superstar Classic 5-Piece Shell Pack
PRICE : $ 699
Superstar performance with the classic tones of maple.
For nearly forty years the Superstar name has stood for groundbreaking design, ­superior build quality, sterling tone, and clear projection. Now Tama introduces this ­legendary kit in its most sonically aggressive persona yet¦featuring 100% maple ­shells. Thinner and livelier than ever, the Tama designers have dialed in the perfect ­combination of sensitivity and high-end "cut."
To Buy and Read More Click Here
8. Ddrum Hybrid Acoustic/Electric 6-piece Shell Pack
PRICE : $699
The ddrum Hybrid Acoustic-Electric 6-piece shell pack features drums crafted from birch and outfitted with internal triggers. The acoustic birch shells produce a focused tone with punchy, bright attack. The kick and snare boast 8-ply construction and the toms feature 6-ply construction.
To Buy and Read More Click Here
9. Sonor Bop 4-Piece Shell Pack
PRICE : $429
A swing-sized shell pack for the weekend jazz cat.
Made to exact specifications, the Sonor BOP 4-Piece Shell Pack provides that great Sonor feel and superb quality in Jazz sizes. The cross-laminated shells provide superior stiffness and a 45-degree bearing edge for that signature Sonor sound. A full-sized snare rounds out this great shell pack. This 4-piece shell kit has a tiny footprint which means quick setup and pack-up times.
To Buy and Read More Click Here
10. Ddrum Reflex 5-Piece Shell Pack
PRICE : $539
An innovative kit from ddrum with alder wood for deeply focused tone.
ddrum' innovative use of alder wood gives these drums a broad tonal spectrum.The use of alder wood for the Reflex shell pack creates complex tones with equalized projection. The kit is features ddrums™ new "face-off" lug design and suspension mounts. 22″ x 20 kick, 10″ x 7″ and 12″ x 8″ toms, 16″ x 14″ floor tom, and 14″ x 5-1/2 snare drum.
To Buy and Read More Click Here
And there are many more..but i looked around and choose best possible sounding kit under $700
 Please Check out Other Blogs to get some interesting topic that you like and would help your drumming 
thank you.